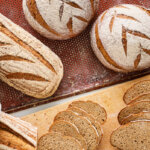 Rustibas produces a medium-coarse, fiber-rich bread and contains kruska bran. In this recipe, we have added whole wheat flour, which means that you get a whole grain bread.
LADDA NER PDF MED RECEPT
Ingredienser
Rusty base

500

g

Yeast

70

g

Bakery wheat flour

550

g

Whole wheat flour

650

g

Water

1000

g
Job description
Weigh all the ingredients and knead everything into a smooth dough. Leave to rest for about 15 minutes. Weigh out and shape the bread to the desired size and shape. Yeast and bake off.
Running time in machine: 3 min slow, 6 min fast,
Dough temperature: 27°C,
Lying time: approx. 15 min.
Yeast time: approx. 40 min.
Baking time: approx. 27 min.
Input temperature: 240°C,
Finished baking in: 200°C