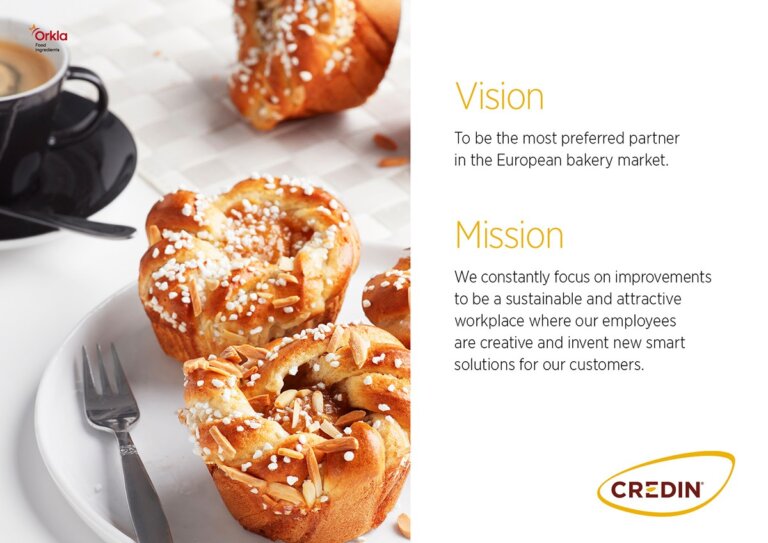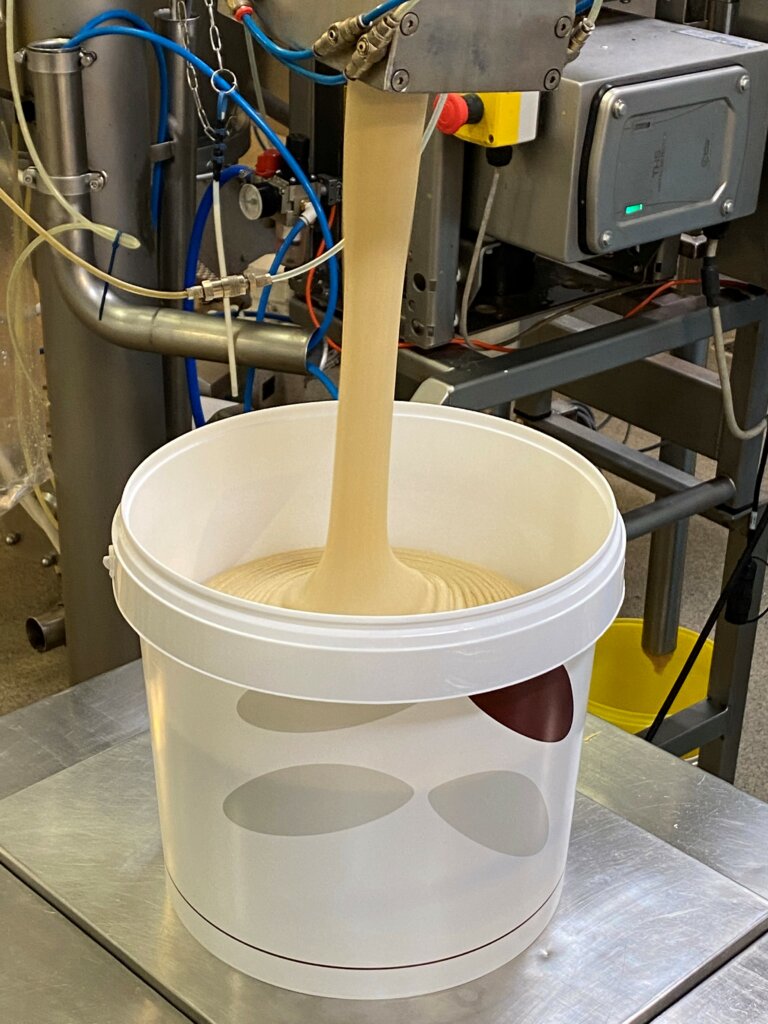 Our product portfolio includes ingredients for coffee bread, primarily ready-to-use fillings and functional fats, bread mixes and pastry products. We also have food colours and flavours for the bakery industry as well as for the ice cream and confectionery industry.
In Stenkullen we develop and produce a wide range of ready-to-use fillings for coffee bread and other applications. Our knowledge and experience in this product area has made Credin Sweden a so-called Category owner within OFI for fillings. This means for example that we are a Center of Expertise within OFI for fillings.
We develop and produce liquid margarine and functional fats. The latter are liquid 100% fats to which we have added enzymes and/or emulsifiers to give optimal volume and freshness to various baked goods.
Other important products we develop and market are bread mixes and bread decors, muffin mixes and other cake mixes, custard cream powders, fondants in piping bags, food colours and aromas.
In the Swedish market we represent the German company Kessko, developing and producing a wide range of very high quality mousse powders, as well as a tasty range of alternative sweetened products, free from sucrose. We call this range Diabella.
Our main market is the Swedish market, and we are rapidly growing our sales in the other Nordic countries as well as in the Baltics. Together with our sister companies in the Credin Group and in OFI we are also growing our sales in the rest of the European bakery market. 
Parts of our broad product range are also sold to other market segments, such as the chocolate and candy industry, the ice cream industry and other food industries.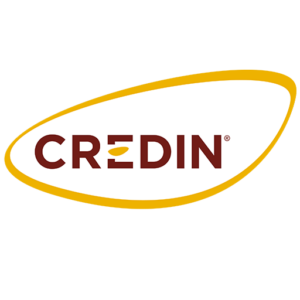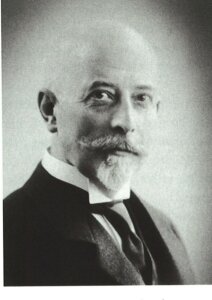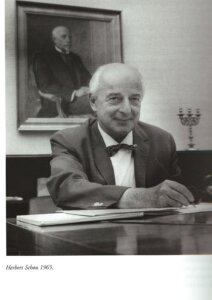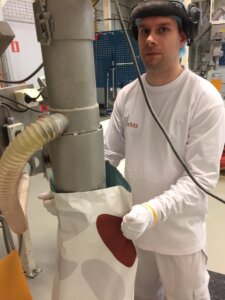 Credin was founded in 1930 in Juelsminde in Jutland in Denmark by Herbert Schou, son of Einar Viggo Schou. The business idea was to make it easier for bakeries to produce bakery products of high and consistent quality. And this still applies.
Einar Viggo Schou, who before he moved back to Denmark from England, was a co-owner of the world's largest margarine factory at the time. In 1908, Einar Viggo Schou bought Palsgaard's castle in Juelminde in Jutland and thus moved back to Denmark. In 1917 he founded Palsgaard Emulsion Oil A/S for the commercial production of emulsifiers. The company is today known under the name Palsgaard A/S.
Herbert Schou was CEO of Palsgaard Emulsion Oil A/S. With the large and cheap availability of emulsifiers from his own factory, he saw opportunities to develop and produce technical ingredients for the bakery industry. The idea behind this was, as we said before, to make it easier for bakeries to produce bakery products of high and consistent quality. He then decided to start a company for this purpose, and the company was named Credin. At that time there was no similar company in Denmark. Herbert Schou had an international vision with Credin right from the start. However, the first establishment outside Denmark's borders was delayed, and it was in Portugal in 1973, followed by Poland in 1975. In 2002, Credin was acquired by the Norwegian Orkla ASA. Credin was then a leading supplier of bakery ingredients in the Danish, Portuguese and Polish markets. In 2019, Orkla acquired Zeelandia AB in Sweden which then became Credin Sverige AB. Today Credin Group is part of Orkla Food Ingredients, OFI, and has its own operations in Denmark, Poland, Portugal, Spain and Sweden.
Credin Sverige AB has its roots in Norlander Food AB, which was founded in Stenkullen in Lerum municipality in 1987 by the Norlander family and Palsgaard A/S. Norlander Food also had as its business idea to make it easier for bakeries and pastry shops to produce baked goods of high and consistent quality in an economical and cost-effective way.
Production of ready-to-use fillings and powder products started in 1988 and margarine production in 1989. In 1997, Norlander Food acquired the Hagelberg's brand and the production of food colours and flavours that were manufactured under this brand.
In 2006, Norlander Food was acquired by Dutch Zeelandia and became Zeelandia AB. The company was then owned by Zeelandia until 2019 when Zeelandia AB was acquired by Norwegian Orkla ASA and became Credin Sverige AB.
Today, we are sister company to, among others, KåKå AB and part of Orkla Food Ingredients.
Businessman of the year in the bakery industry
We want to inspire Swedish bakeries and pastry shops to more profitable operations and a developed leadership. Therefore, since 2016, we have been the proud main sponsor of the award Businessman of the Year in the bakery industry, initiated by Sveriges bagare & konditorer, SBK. The purpose of this award is to promote growth, profitability and good leadership in our industry.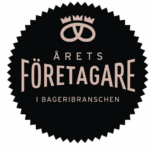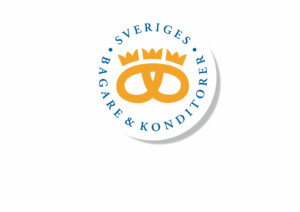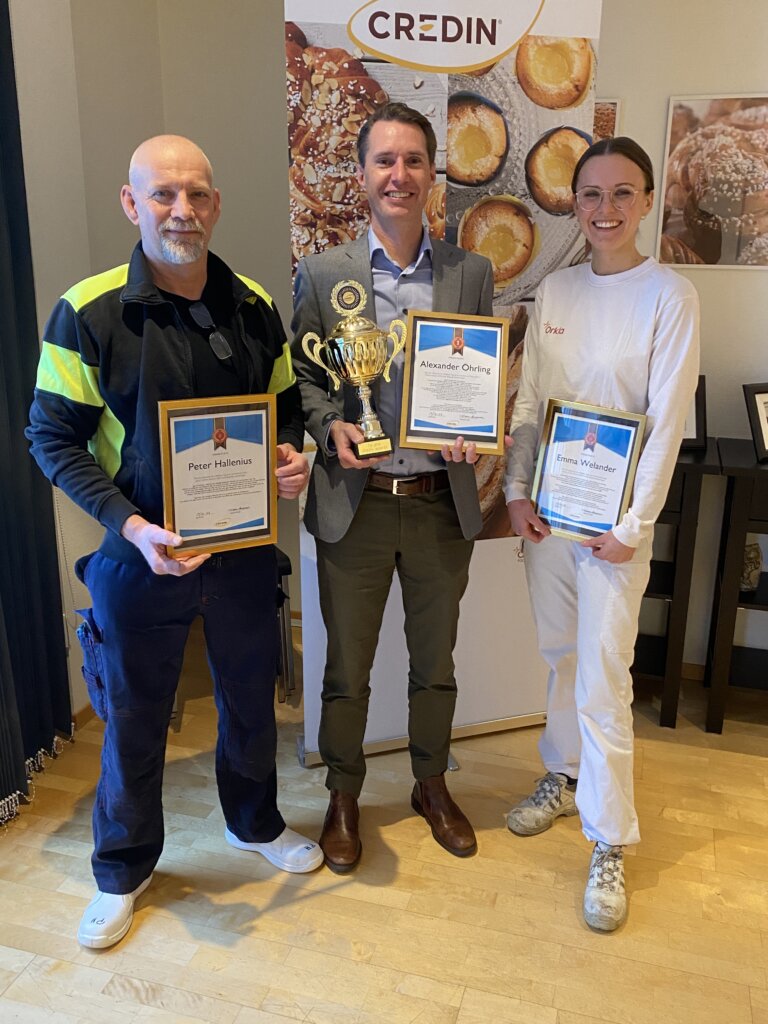 Our core values are a guiding light for how we behave towards and with colleagues, customers, suppliers and others – Brave, Trustworthy and Inspiring. The Credin Award is given to an employee at Credin Sweden who is an example in these respects and helps us steer in the same direction, enjoy work and succeed together.
A big congratulations to the winner of the Credin Award 2022, Alexander Öhrling, a true Crediner and so well deserving of this award. A big congratulations also to 2nd prize winner Peter Hallenius and 3rd prize winner Emma Welander. You are all great role models! Congratulations and thank you for being who you are!